Are you interested in having a
Free three card Tarot reading?
Yes! I want a free three card Tarot reading. Okay no problem, please read on…………
Besides learning about Tarot card meanings, what is really interesting to see and be exposed to is of course Tarot readings. If you can also see how these Tarot readings have been done you will learn allot by osmosis; seeing the cards, seeing the interpretation and how a reader came to a conclusion.

I have therefor decided to incorporate a new feature into the website and that is a free three card Tarot reading a week.
I am pretty sure this is a worlds first as: this will not be done via an automatic technological system. Although technology can easily do a tarot interpretation from basic card meanings. A good Tarot reading will always have to be done by a human being.
Some of you that have seen several videos either on this site and will know I have this thing with context. Only people can interpret context in a Tarot reading.
To make a long story short, we are starting with a free weekly 3 card reading, for 1 visitor to this site.
Each week another request for a free three card Tarot reading gets picked.
If you want to have a free three card reading done by a professional Tarot reader and teacher (me), enter the following information:
• The topic
• The people involved
• The question
In the form below
As you know I am an intuitive reader not a psychic, therefor my skill lies in understanding the background of the reading and interpreting the cards in context with the information provided.
I hope you are as excited as me about this.
Note: the reading will be displayed online but all personal details besides your first name will be removed. You will never be able to be identified through the information that is shown. The best way to learn Tarot is through current real life examples so this will be very exciting as it ticks all the boxes but it will still all be online.
What can you expect from a Free 3 card Tarot reading?
A free three card tarot reading will likely give a snapshot of what is happening. Having said that I have had some profound insights for either myself or my clients with just a few cards.
Free 3 Card readings – Layouts
Here are some of the basic layouts:
Mind
Body
Soul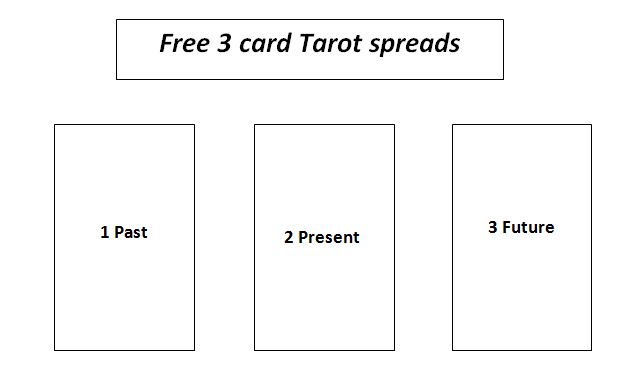 ---
Or
Past Present Future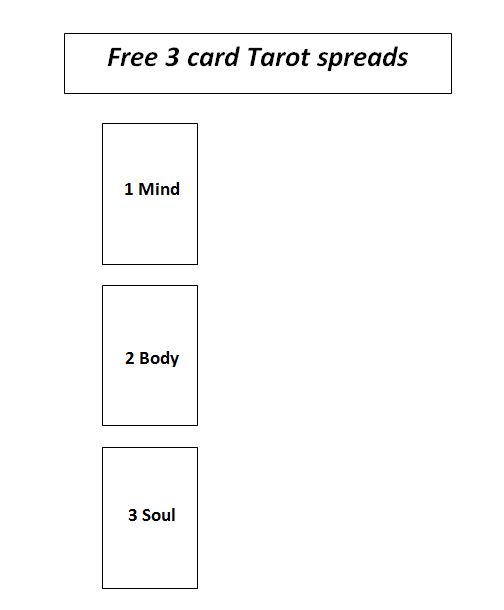 In some cases I will make up the layout of a reading as I go. One of the great benefits of knowing how to work with the Tarot cards is that you can design your own layout if required.
We will still try and stick to 3 cards for the time being.
A library of Tarot readings to study!
I am really excited about this as I get to work with you, do Tarot readings and teach you how to work with the Tarot cards (which is really what I am all about).
There are no strings attached, 1 visitor gets picked every month and their free three card Tarot reading will be put online as a link on this page (without any personal details that can identify them)
The idea is that a library of older readings will evolve. It will be a good idea to read through those older interpretations. Seeing how readings have been done will greatly help your Tarot reading skills.
Reading 6 - About Love....
Sign up now for your free 3 card Tarot reading!
I look forward to doing a free three card Tarot reading to you, please fill out the form below.
Free three card Tarot reading – the rules:
• If you haven't been picked this time try again in about a month.
• Your email address will be required for communication purposes.
• You will be added to our newsletter from which you can unsubscribe at any time.
• Readings will be done for the benefit of the individual requesting the reading
• We* do not take any responsibility and will not be liable for any actions taken based on this reading
• We will never frighten our client. It will be a standard reading with open suggestions and insights, we abide by the ethical standards of the Tarot Guild of Australia.
• By entering your details you agree to the terms and conditions of this offer.
* We refers to the owner of this website (www.tarotreadingsandmeanings.com) known as Sabine Straver and the company that owns this website (Dinsab Pty Ltd).