Tarot journal
A tarot journal is a great way to express yourself, to work with your intuition, develop your creativity and to learn more about the Tarot cards as well as about yourself.
In this Blog post you can read about my decision to start a Journal practise. For me it will become a creative Art journal with Tarot cards in it.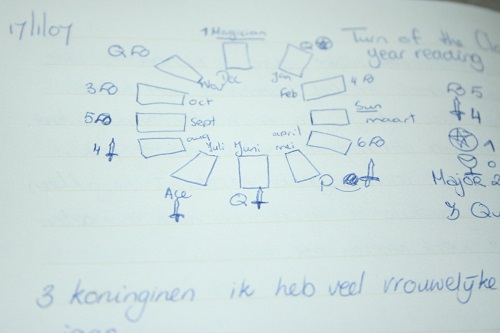 How to Start?
You can create a Tarot journal in many different ways when I was still honing my Tarot skills I often had diagrams of readings I had done and the interpretation I gave them. I still do this, creating short hand is a great way to keep a record of your Tarot readings and your progress over the years. (I actually explain a way to use Tarot short hand in the Tarot courses.
Here are older journal entries with Tarot layouts drawn and explained.
---
---
You can also journal about 1 card a day or a week and let the messages from the card to you personally as well as the more traditional meanings slowly sink in. This is a great way to learn the Tarot when you are at a beginners level or if you want to systematically go through the whole Tarot deck and get to a deeper level of understanding. To facilitate this you can sign up to the Tarot card a week feature (you get a Free Tarot card explanation send to your inbox at regular intervals). You can also check out all the Tarot meanings here.
What I will be doing in my Tarot diary is a real expansion of my artistic abilities (or lack thereof but I will be having fun in the process ;-) and combining creative art with 1 or several Tarot cards. I have purchased an extra Tarot deck and will over time glue all the cards in my journal. Tarot cards are not expensive anymore and creating a meaning full book to reflect on later is a great way of using the Tarot I think (although it took me some time to come to this conclusion).
These are my first attempts at a Tarot Journal (as in the creative one).

What do you need for a Tarot Journal?
Not much really; just a book,  I prefer without lines. You can pick your own colour size and price range but anything will do. If you are writing notes than one place to keep all your notes is useful. If you will be working on a creative journal then I think creativity just wants to be, do and play so don't let perfectionism prevent you from every starting a journal. Any book will do and it is nice to see how we grow, develop and tweak things as we commit to a regular practise.
I will post all later Tarot pages on my blog but will keep a record on this page for you to click through read the first Tarot journal blog post here.
My creative mentors
For several years I have been heavily influenced by Donna Downey and her Inspiration Wednesday. She tapes her creative process each week and makes a journal page each week (for years) it is truly inspirational and a joy to watch.
I also love to see Andrea's work and have done some of her online courses.
I hope you will enjoy my regular Tarot Journal entries as well.
Home

>

All Tarot Card Meanings